If you didn't catch the title, yes, this is my 100th published blog post! It still feels like I just started blogging, but that's not the case. I've gained so much knowledge and many friends over the years upkeeping this blog, and I'm still not tired of it! You know you love something when you're still doing it 100 times later. To all my readers, thanks for sticking with me.
Speaking of good news…
My Scribophile/blogger friend Miss Cassiopeia has nominated me for another blog award: the Encouraging Thunder Award.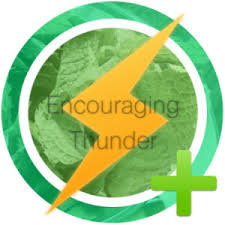 Here's what she had to say about the award:
"The Encouraging Thunder Award is an award for people who have mastered their purpose…

What you can do with Encouraging Thunder award?

Post it on your blog or social media account
Grant others with the award

What you can't do with Encouraging Thunder award?

Abuse or misuse the logo
Claim that it's your own handmade logo

What you should do after receiving Encouraging Thunder award:

Enjoy the award
At least gives thanks via comments and likes and or mentioning the person who give the award.
Mention your purpose in blogging or joining the social media"
I've touched on the topic of my blog's purpose before but, in respect to this award, I will add that I feel my blog has also encouraged others. I've written about deeply personal topics here. Even when those topics delved into the dark sides of life like unyielding depression, I still come back with posts that prove why life is worth living, why passions are worth pursuing, and how happiness is attainable. I hope my posts can inspire others to make positive changes in their own lives.
Speaking of changes…
I mentioned deactivating Facebook in my prior post. I reviewed my list of career goals prior to making that change, which eased my mind in finally deactivating it; Facebook wasn't even a part of my author platform goals so it only helped to see it go.
I also decided while reviewing my goals that I'm no longer going to be reviewing the books I read on Goodreads. *sigh*… That was a hard call, because I like contributing to the Goodreads community. However, I'm reading more lately, which equates to more reviews on my to do list. And reviewing others' writing is simply not as important to me as getting my own writing out there. I knew something had to go to create some more time in my routine, so the Goodreads reviews were it. Don't worry, I'll still rate the books I read, and I'll still complete the 50 States Reading Challenge.
Speaking of the 50 States Reading Challenge…
I'm still doing that. With the recent finding of this awesome list, I have a better idea which books to read next to finish the challenge faster.
Until 101,
Rebecca