Life stuff has been busy the past week:
Topher's birthday (two days of madness, I tell you, MADNESS!)
Two parties in two days and way too much pizza and cake for me to handle. And that's saying something; I love pizza and cake.
The week before NANOWRIMO (outlining, outlining, OUTLINING!)
I am and am not going to be participating in NANOWRIMO this year. I am because I will be writing A LOT next month but am not because it'll be for a novel I've already written and–rather than 50,000–my word count goal will probably be closer to 30,000. If you're unfamiliar with the kind-of-insane thing that NANOWRIMO is, it's writing the first draft of a novel in a month. Instead of that, I'll be writing the second draft of a novel in a month. I'll spend December editing enough to call it a third draft, before I finally put the whole damn thing on Scribophile for critiques and call it a day. I spent October (but especially the past week) preparing for this process by scene carding what I already have written and completing two outlines.
I don't have photos of my outlines because I chose to complete them digitally in Scrivener. But I will say if you're interested in the art of plotting, researching multiple outline formats is the way to go. I clarified so many plot-based thematic details by completing Janice Hardy 's 3 Act Structure and Rachel Higginson 's 8 Point Story Arc.
Halloween (all over the place!)
Topher, the roomie, and I decorated our apartment for Halloween, which is something I haven't done in years. It's a testament to how much happier I am lately, that I'm excited to do something as temporary as holiday decorations. Here's an Instagram video of our living room:
Then we all went to a Harry Potter themed party: floating candles in the living area, Voldemort's head on the TV, the kitchen was the Potions classroom, beer pong had Quidditch hoops, there were edible snitches, an entire bedroom was also the Gryffindor common room. I wish I had photos to show you guys; it was epic but too dark for good pictures. I adorned myself in all black and borrowed gothic jewelry from the roommate for a witchy look:
Still. friggin'. reading.
Despite the busy-ness of the prior bullet points, I'm still taking the 50 States Reading Challenge seriously. Here's an updated map: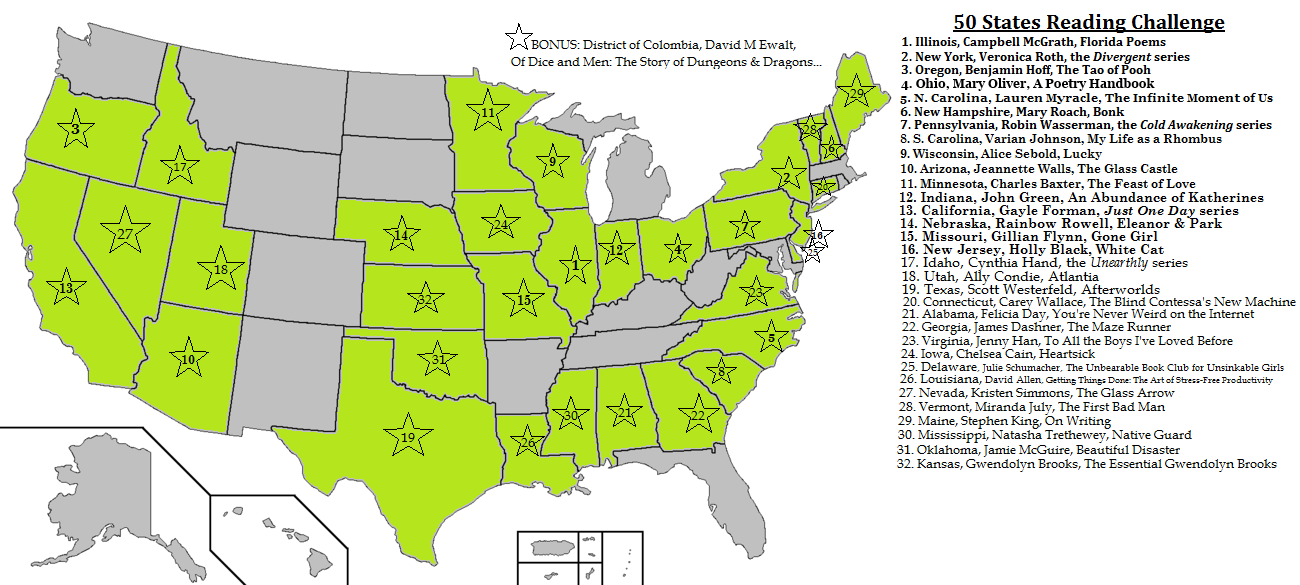 Whewww. I think that's it?
Until next time,
Rebecca