I finally got organized since last week, so my mind's less of a mess than it's been the past few entries. I'm experimenting with weekly to-do/bullet lists categorized by project. This is instead of my usual daily lists. I'm liking it and on track so far in everything except my job hunting: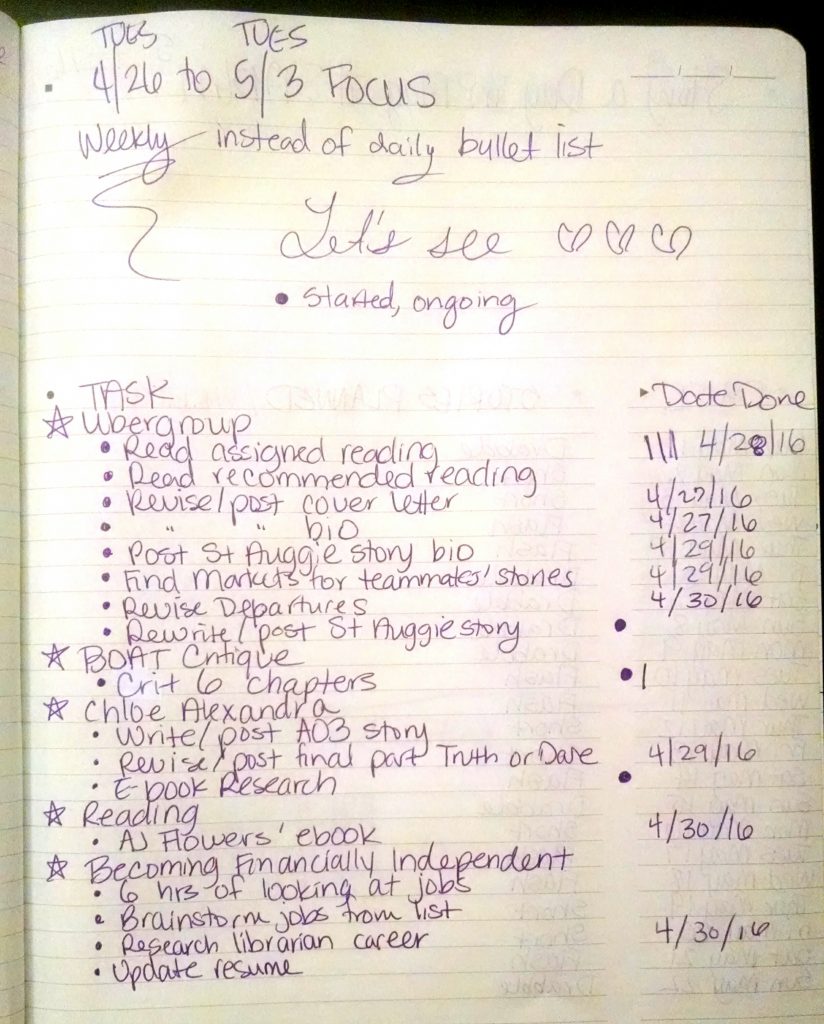 Plus, I had to get organized because I've gone and got myself signed up for two challenges in May. A creative writing challenge (Story a Day in May #SADIM) and a handwriting challenge (#RockYourHandwriting on Instagram). I won't be posting my #SADIM stories because…first drafts, eww. But you can check my #RockYourHandwriting posts on Instagram:
Last year I tried and spectacularly failed at #SADIM, so this month I organized what I'd like to shoot for every day. Drabbles are super short, for days I'd like to focus on other things. Flash fiction is a bit harder to do from scratch. Short stories will be very challenging, and I'll honestly be working from prior drafts rather than starting from scratch on those. Check me out:
Sooooo, one of the things I finished from this week's to-do list is a review of book published by one of my favorite bloggers, AJ Flowers. Check that out below! And I'll see y'all next Sunday.
A Guide to Writing Your First Novel by A.J. Flowers
My rating: 4 of 5 stars
Rating: 3.5 stars
First off I'd like to say I've followed this author's blog for a long time and consider myself a fan. I was excited to hear she created this nonfiction compilation of her blogs, because I've learned a lot from them over time. It was so refreshing to re-read her blogs in e-book form because she organized and presented them in a logical order based on the subject matter and the process an amateur writer goes through from first inkling of wanting to write seriously all the way to the ins and outs of pursuing publication.
If you cannot afford to purchase this book, these are my absolutely favorite blogs of hers that are available for free on her website:
1.) https://ajflowers.wordpress.com/2016/…
2.) https://ajflowers.wordpress.com/2016/…
3.) https://ajflowers.wordpress.com/2016/…
4.) https://ajflowers.wordpress.com/2015/…
5.) https://ajflowers.wordpress.com/2016/…
6.) https://ajflowers.wordpress.com/2016/…
Overall, AJ Flowers' guide is an easy-to-digest overview of many topics relevant to a person's journey from amateur to serious writer. Similar guides tend to heavily focus on just one aspect of writing, authoring, or publishing, but the first 60% of this book gives equal weight to many topics, all of them interesting and important, IMHO. Having said that, I do think the last 40% of this book focuses on giving examples for successful Twitter pitches. While helpful for someone hoping to pursue traditional publishing (me), this info felt overweighted in comparison to the rest of the guide and is probably unnecessary info for anyone wanting to solely self-publish. Please don't let that criticism stop you from picking up this book, though, because I'd still recommend it.
One of the things I love about AJ Flowers is how well-read she is. I strive to throw myself into educational opportunities the way she has. In various places throughout this guide she recommended books or articles she has read, and I've decided to compile them into a list:
1.) Writing with Quiet Hands: How to Shape Your Writing to Resonate with Readers by Paula Munier <-- Mentioned multiple times and has been recommended to me by more than just AJ, so I'm definitely going to give this one a read
2.) The Negative Trait Thesaurus: A Writer's Guide to Character Flaws & The Emotion Thesaurus: A Writer's Guide to Character Expression by Angela Ackerman <-- Mentioned a few times and The Emotion Thesaurus has been recommended to me by more than just AJ, so I'm definitely going to buy that one when I have the money
3.) The Sense of Style: The Thinking Person's Guide to Writing in the 21st Century by Steven Pinker <-- Mentioned a few times for improving prose
4.) Self-Editing for Fiction Writers: How to Edit Yourself Into Print by Renni Browne & Dave King <-- Mentioned a few times for improving editing skills, especially if you don't plan to hire an editor
5.) http://www.csfriedman.com/what-is-the… by CS Friedman <-- Test your worldbuilding!
6.) Super Structure: The Key to Unleashing the Power of Story by James Scott Bell
7.) Writing with Emotion, Tension, and Conflict: Techniques for Crafting an Expressive and Compelling Novel by Cheryl St.John
8.) Point Of View: Understanding Which P.O.V. is Best for Your Story and Using it Effectively by Alfie Thompson
9.) Wonderbook: The Illustrated Guide to Creating Imaginative Fiction by Jeff VanderMeer
10.) Writing Vivid Settings: Professional Techniques for Fiction Authors by Rayne Hall
11.) Self-Publishing Books 101: A Step-by-Step Guide to Publishing Your Book in Multiple Formats by Shelley Hitz
12.) Successful Self-Publishing: How to self-publish and market your book in ebook and print by Joanna Penn
13.) Make a Scene: Crafting a Powerful Story One Scene at a Time by Jordan E. Rosenfeld
14.) Book Cover Design Secrets You Can Use to Sell More Books by Derek Murphy
15.) The Book Marketing Bible: Essential marketing strategies for self-published and first-time authors, or any writer looking to skyrocket sales. by Norm Schriever
16.) How to Write Science Fiction & Fantasy by Orson Scott Card
That's a lot, I know. But I'm glad I made a list and have added them all to my to-read Goodreads list. Thanks for writing, AJ! I hope you find representation soon.