Happy Sacred Sunday, everyone! I implied in last Wednesday's post that I would start delving into my planning systems, as they are much more organized and routine nowadays than they used to be. There are too many for just one post, honestly, so I'm going to make a series about this.
This post I'd like to go over what I lovingly call my "career planner". Look how pretty: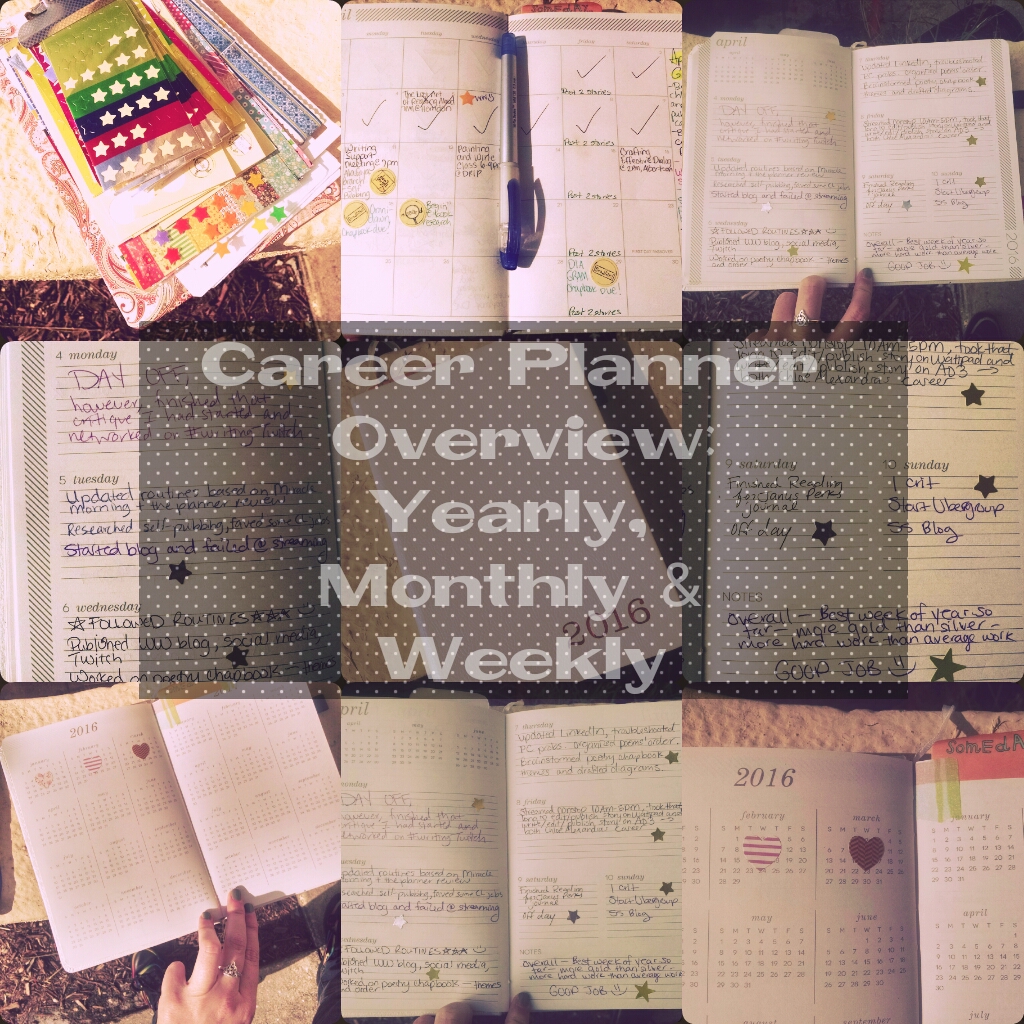 I wanted a yearly/monthly/weekly spread that could focus on just my writing career. Specifically, I wanted a way to organize my goals and keep track of how I'm doing on them. It took some fussing, but I found a system that's been working well now for about three months.
Yearly
TBH, yearly goals are too advanced for me. Maybe one day I'll be able to break down my goals into chunks that large… but for right now, I'm comfortable planning at most a month in advance. So, the only thing I do with my yearly section is mark off the finished months with a sticker: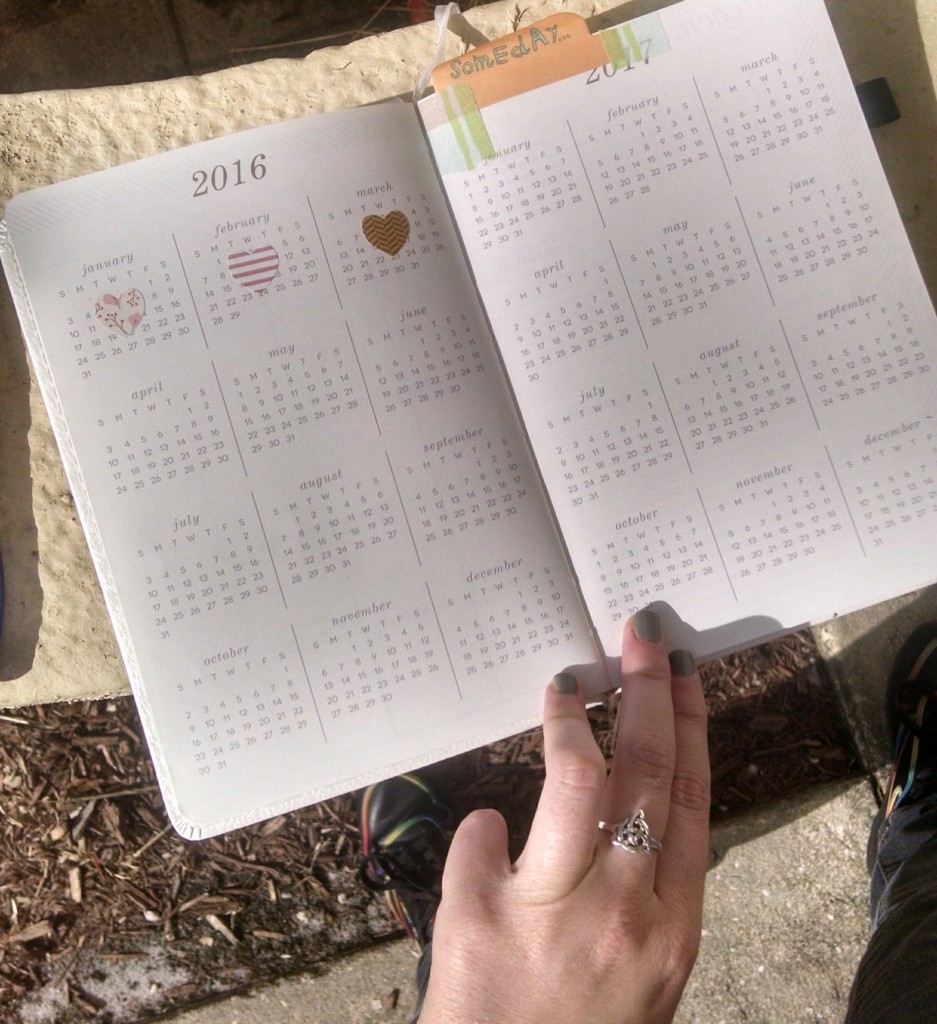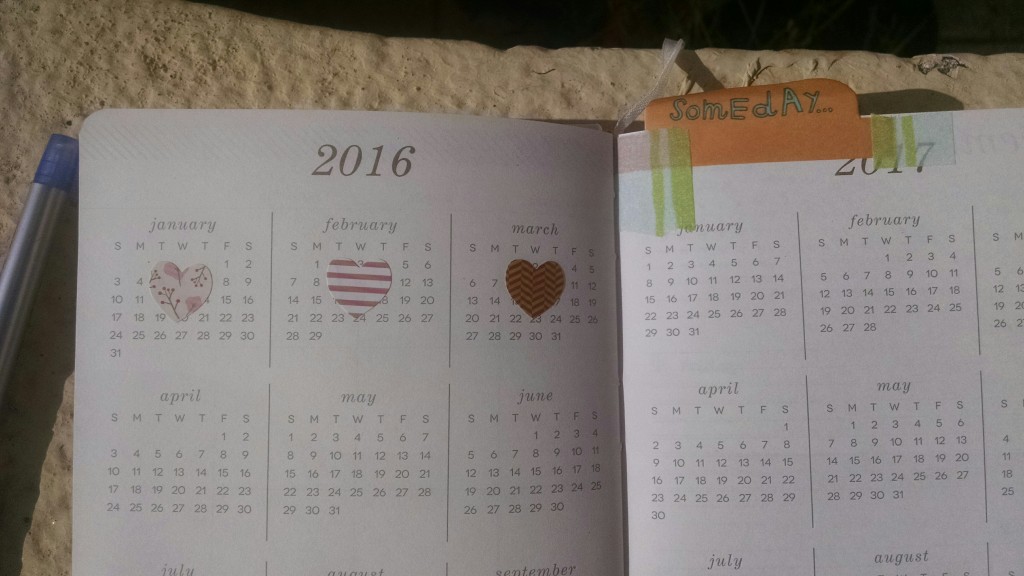 Monthly
This section is where the big thinking, goal setting, and future planning happens. Take a look: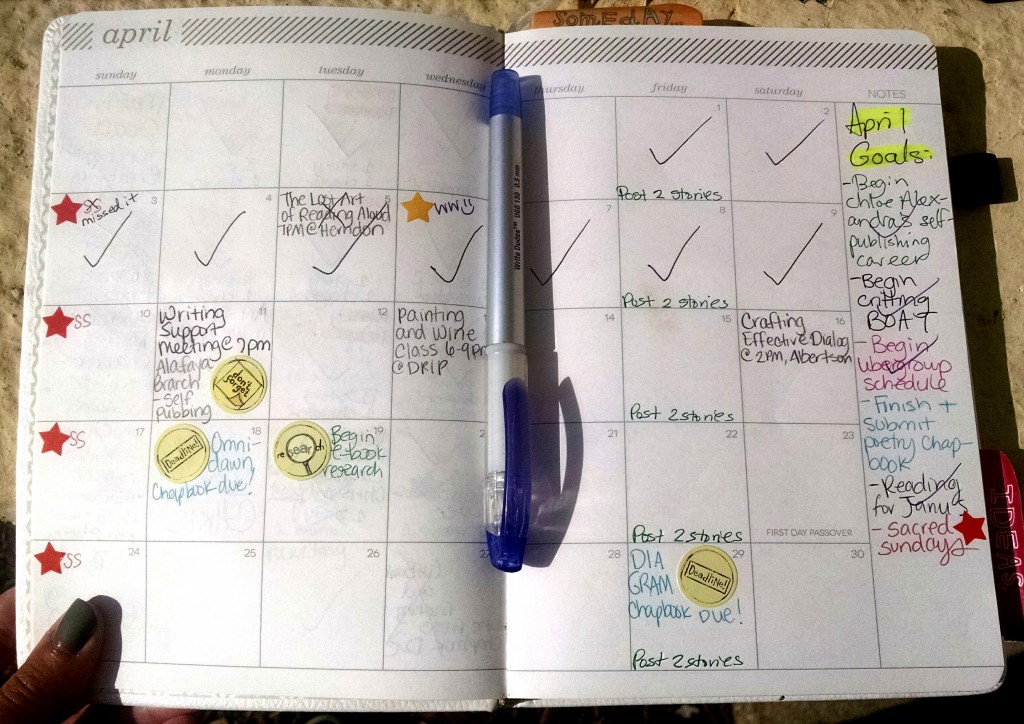 At the end of each month, I brainstorm which writing projects I'd like to focus on in the upcoming month. Then, I assign priority to those projects and list them in order on the right hand side of my monthly spread. If I have any self-assigned or externally assigned deadlines, I include those in this spread as well. As you can see, I've attempted to color code the deadlines to match the corresponding goals.
I review this section at the beginning of every day to make sure I'm about to focus on tasks for at least one of my monthly goals.
Weekly
This is where my planning process differs from most people's. I reserve my weekly section for goal tracking and reflection. I do not use my weekly section to plan the future; my future planning and goal setting is reserved for my monthly spread only. Take a look: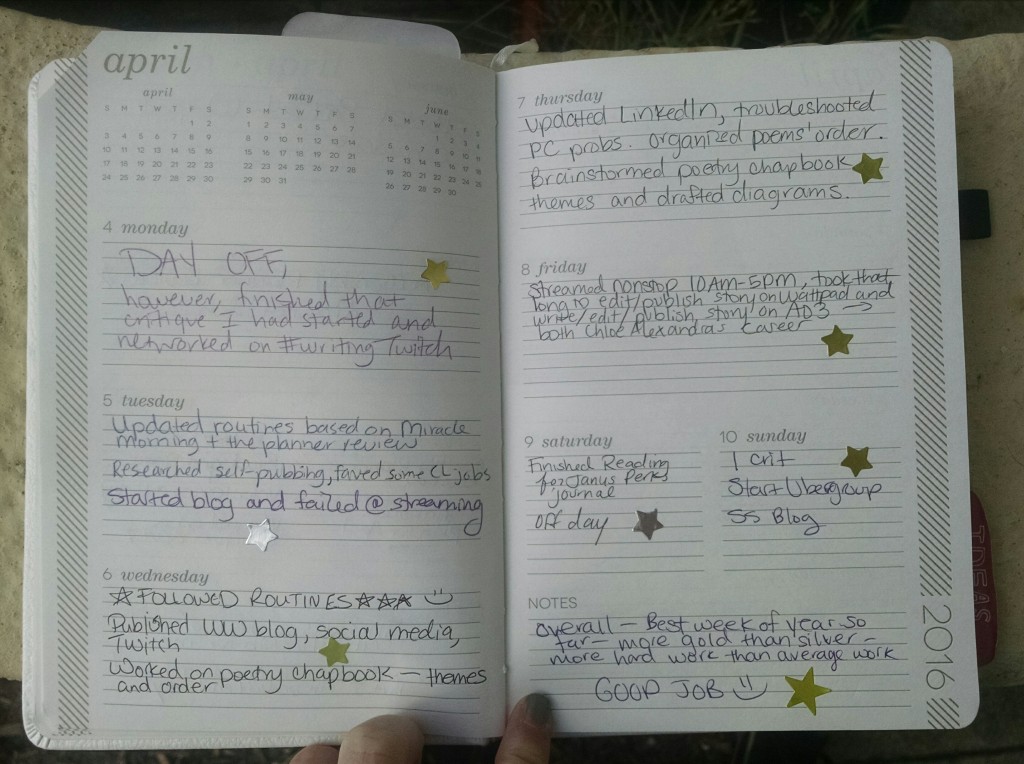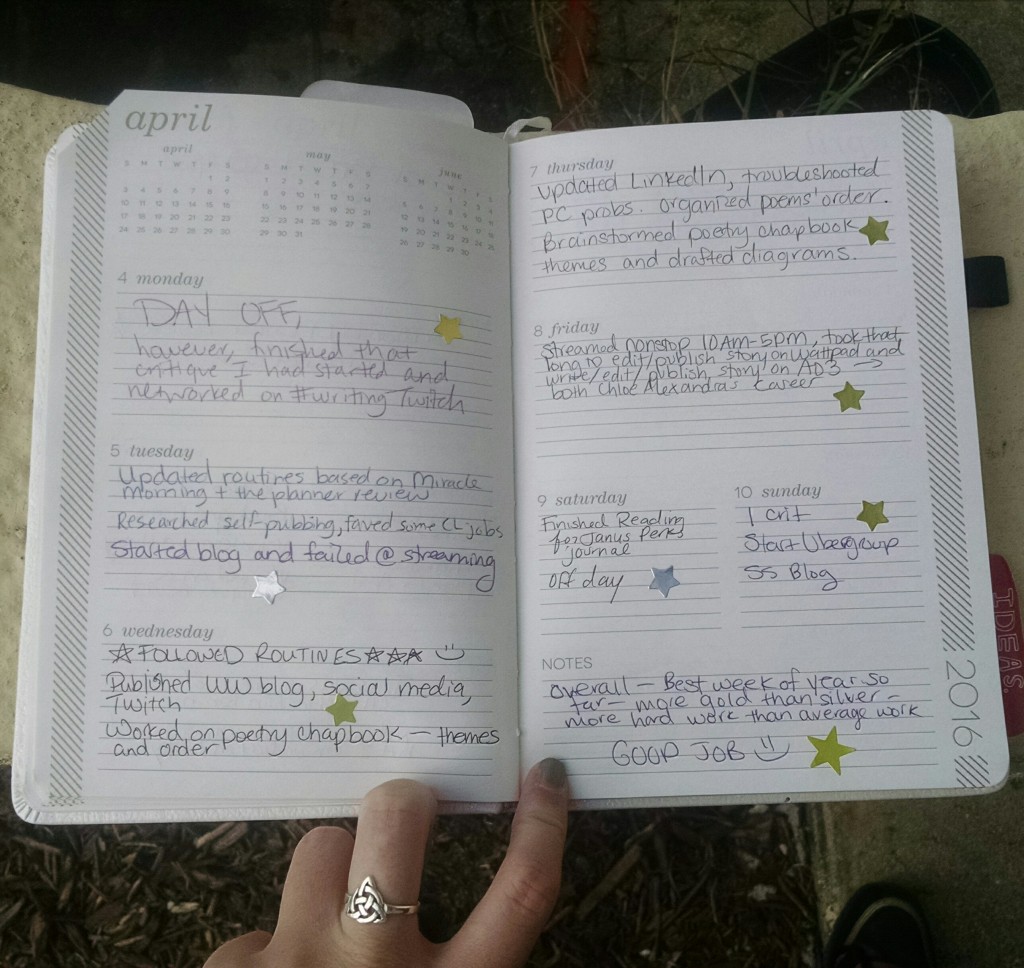 The close-ups of my week below will demonstrate what I'm about to explain: At the end of every day, I flip to my weekly section and write down what I've accomplished for my career that day. I also assign a color-coded sticker. Red star means I didn't try hard enough, Silver star means I tried enough, and Gold star means I worked really hard. This color-coded system allows me to reflect more easily on my effort at the end of each week; lots of red means something is probably wrong that I need to address, lots of silver means I could probably try something else to be more inspired, and lots of gold means I need to keep doing whatever the hell I'm doing 'cuz it's working! At the end of the week, in my weekly "Notes" section, I assign a bigger star using the same color-coded system, as a way to assess how I did that week overall. This week was my first Gold star week in a while, so yay! (In case you were wondering, Silver weeks are my average, and Red weeks happen when I'm either struggling with my mental health or focusing on non-career projects.)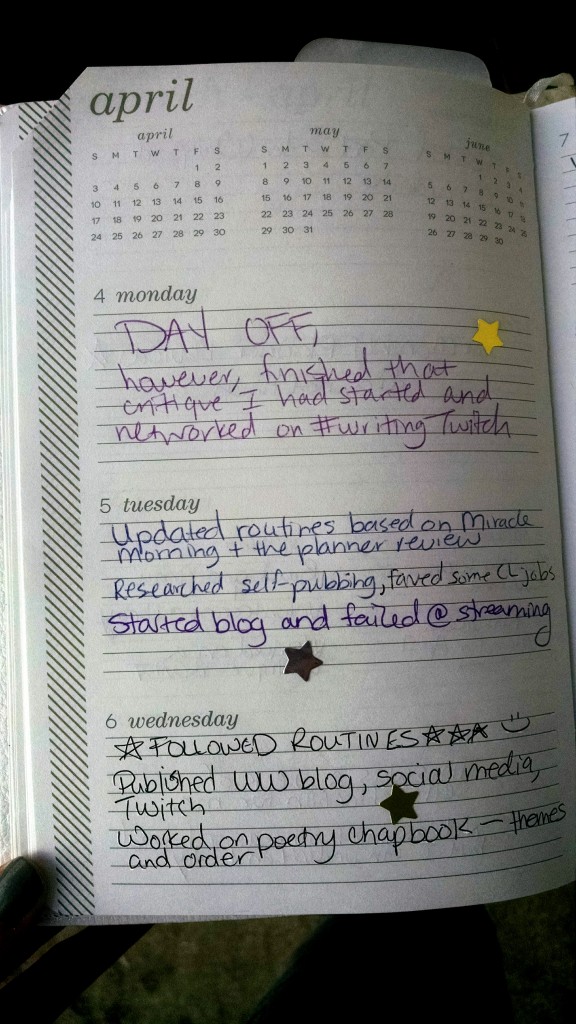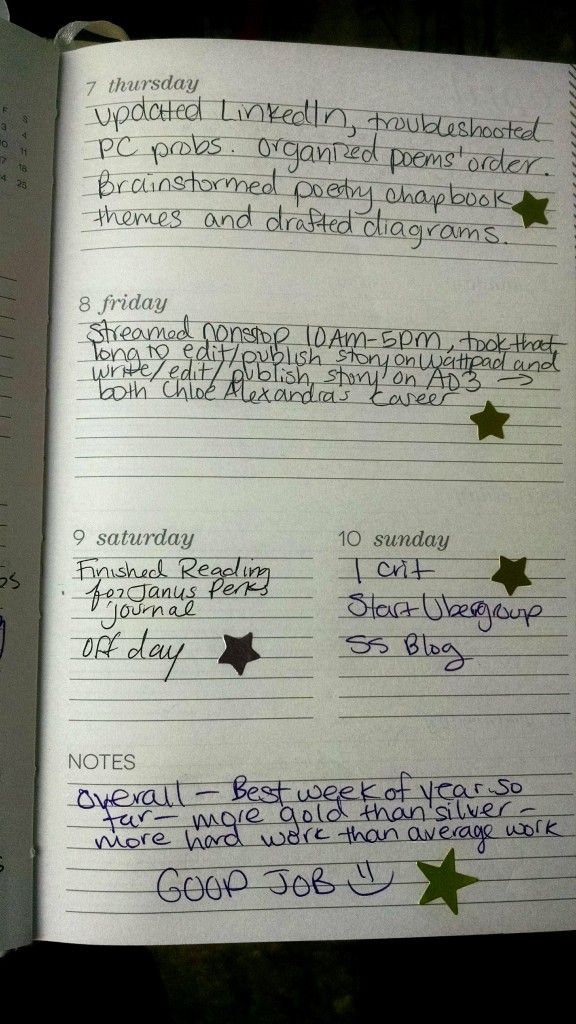 And, just for funsies, this is how I organize the stickers I regularly use. It's a cute, tiny clipboard: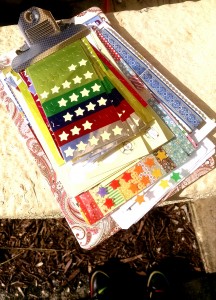 If you'd like to check out even more pictures of my best monthly and weekly spreads, follow my Instagram. I post images like this over there:
If you have any questions about my career planner, don't hesitate to comment below! I'm also open to suggestions. That's what's wonderful about organizational tools; they give you the freedom to experiment with your routines, goals, actions, and results. 🙂
Next Sunday I think I'll show you my daily bullet journal and project planner. They're both contained within my Moleskine Professional Series Notebook. Here's a sneak peek. 😉