I said I'd be away while my personal life calmed down, and away I was. Topher and I spent the back end of summer improving our living situation. No more temporary dwellings. No more crime-ridden neighborhoods. I really, really love our new digs. It's improved my mood greatly.
Oh, and I got a job. Not really a big deal — just a non-writing, non-stressful part-time gig that'll get me some book spending money. I made sure to take something that wasn't going to interfere with my writing. So far, so good. We'll see.
In the past few months when I wasn't researching real estate, packing, unpacking, or jobbing, I was reading. A lot. Like, a lot A LOT. I've already exceeded my Goodreads goal for the whole year, and I'm still reading. In fact, my speed's only been increasing and I'm averaging about two books a week right now. It's my own form of therapy as well as continuing education. My current favorite is "Afterworlds" by Scott Westerfeld. I'm not even half way through it yet, and it's blowing my mind. If I had to choose one word to describe it, it would be META.
So here's the update on the 50 States Reading Challenge that I introduced in this post: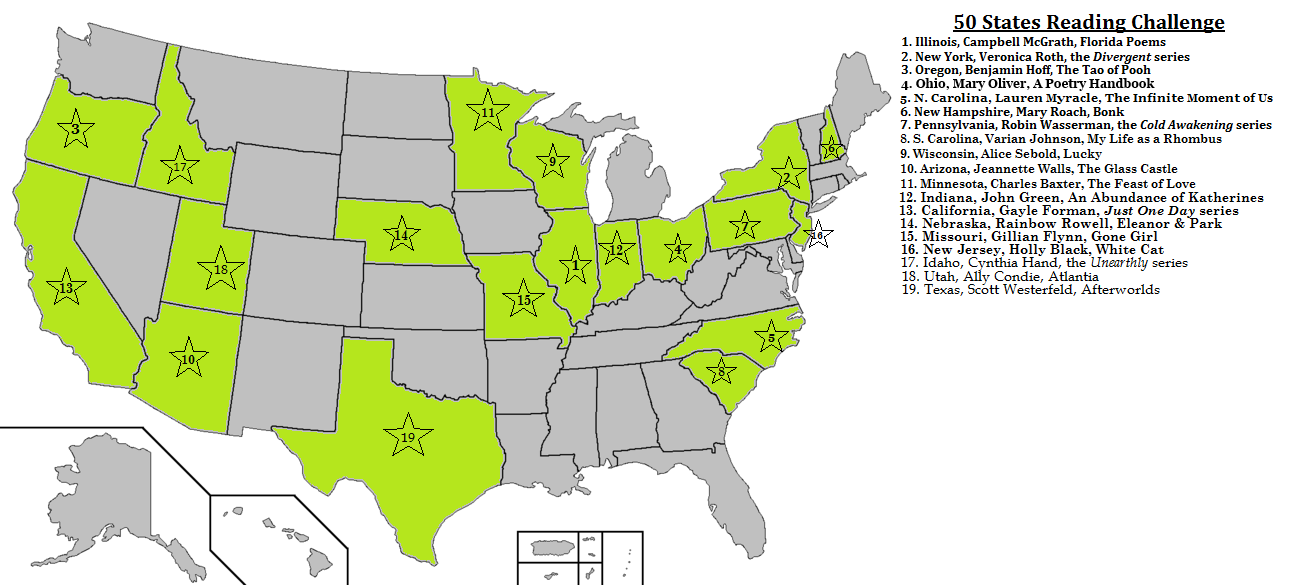 19 out of 50 is 38% done with the challenge, which is almost 40%, which is almost half way there (optimism!). It'll take me staying at my current pace of two books weekly to finish the challenge by the end of 2015. I'll have to remain focused, that's for sure.
The big deal about me reading this much is, well, it means I'm getting better. Sorry, I know that's one of the cheesiest things I've ever typed. I know that sounds corny, but it's true.
A good friend recently visited me, and we were talking about our first hand experiences with depression. I told her my depression makes me unable to do the things I love to do. When I'm deeply depressed, I don't read. I especially don't write. And if I do write it's to write about my depression… so it feels like doing a tainted version of what I love. It's just not the same. That friend also happens to be a vivacious reader and told me she couldn't imagine not being able to enjoy reading, that that must have been so hard. And, really, it's only when you're on the other side of the tunnel that you can look back and go, "Yeah, that was really hard."
I don't want to jinx anything. In fact, it says something big about my mental health that I'm here now writing this blog. Showing up for Sacred Sunday.
My steps forward are tentative – maybe even a little unsure – but it feels good to be back, and I hope to keep coming back.
See you soon.