I am 24 years old today, blog, and I am singing this song over and over. Please play it now for empathy's sake.
On a seemingly random but I promise related note:
"You might belong in Gryffindor,
Where dwell the brave at heart,
Their daring, nerve and chivalry
Set Gryffindors apart" – The Sorting Hat
As recognized in this older post, I have grown into a Gryffindor. I've been thinking about this tonight because I've been thinking about bravery. I've been thinking about bravery because I've been thinking about my birthday. I've been thinking about my birthday because 24 is a weird age to feel like. I've been feeling weird thinking about how weird I feel, which has twisted the weird feeling into uncanniness, and now the uncanniness has devilishly transfigured itself into a monstrous tsunami of anxiety that, if I REALLY had to pick only 1 word to describe it, feels a lot like terror.
If there's anything we've learned about terror it's that it goes steady with bravery in all sorts of fantastical adventures.
At the end of 2012 I followed adventure on a Greyhound bus to Atlanta to see Amanda Palmer in concert. I've listened to her songs and read her blog sporadically for about a decade, so one can say I'm a fan of hers. Here's a video to prove it (I come on stage in the blue shirt at 4:40):
In the middle of 2013 I also met Amanda's spouse Neil Gaiman, who's no stranger to a fantastical adventure or two. I picked up "Neverwhere" about a decade ago and have read six more of his books and one of his short fiction anthologies since, so one can say I am also a fan. Here's photo proof of the meeting:
Following the July 2013 signing and my first read-through of "The Ocean at the End of the Lane", I wrote an extremely personal piece of creative nonfiction–something that I feel I only could've written having met two of my favorite artists within eight months of each other. I shared it with only a few select friends, vowed to edit it, then let it be for a little over six months. I could say I was following Gaiman's advice, but truthfully I've just been paralyzed by fear.
This is an author's fear I speak of, not a writer's. A writer can live her whole life writing, never share a word of it, and die happy. It's the author–the author–who feels the need to share that writing with the world. It's the true author who can surrender her writing to the reader having fully accepted the truth which paralyzes her–that writing was never hers to begin with, it was always a product to be given, it was always theirs, even before the words were set to page it did not ever belong to her.
I made a resolution to share more of my writing in 2014, and this is the fear I must and will face. As a Gryffindor I understand to face my fear is the truest way to achieve personal growth.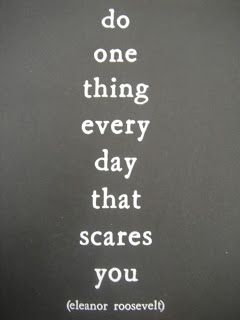 This is a song that I sing when I'm scared of something. I don't know why but it helps me get over it. The words of the song just move me along and somehow I get over it.
…
+++++++++
July 2013
+++++++++
…
by Rebecca N. McKinnon
(1.)
When I arrived at Temple Judea I thought I would feel God again–a peaceful knowing and all-at-once confident silence in my soul.
I didn't.
I felt instead an admixture of my own selfish memory and fiction, my soul disquiet
and haunted.
(2.)
"How can you be happy in this world?

You have a hole in your heart.
(3.)
The man didn't speak over it until someone asked him,
"…Writer?"
I hadn't caught the question but the tone, which was itself an implication,
a feeble promise and hope,
of the elusive capital W.
(4.)
You have a gateway inside you to lands beyond the world you know.

They will call you, as you grow.

There can never be a time when you forget

them, when you are not, in your heart, questing

after something you cannot have, something you cannot even properly imagine,

the lack of which will spoil your sleep and your day and your life,
(5.)
He started the answer with a story:
"I was 21, and I was having the worst day of my entire life. Looking back, yes, looking back now, I still count it as the worst day."
The audience chuckled. I managed a smile.
(6.)
and your life,

until you close your eyes for the final time, until your loved ones give you poison and sell you to anatomy, and even then you will die

with a hole inside you,

and you will wail and curse at a life ill-lived.

But you won't grow.
(7.)
"I was on a plane, and the fact that it hadn't crashed to the ground in a monumental, dramatic explosion of proportions was quite the disappointment.
I was reading.
What was I reading?
Tolkien?
Anyways, it was an essay (an essay hidden in a book of essays) and, oh gosh, it was probably only a page long, this essay, and it said, essentially,
'If you want to be a writer, you have to write!' Just like that! And I started carrying these moleskine notebooks with me, and writing,
and writing every day, and writing out of habit, and reading, reading so much, yes, that's when it really started for me."
(8.)
You can come out, and we will end it,

cleanly,

or you can die in there, of hunger and of fear. And when you are dead, your circle will mean nothing,

and we will tear out your heart

and take your soul for a keepsake.
(9.)
I'd traveled four hours South and two hours in the queue, yet still, when I reached him, I said nothing.
He asked my name, and I gave him two words.
He wrote the first and then drew me inside the book he'd written–me with large, lengthy, humidified hair; me with doleful eyes, cast downward; me silent, without lips.
He'd placed me as permanently as any writer can in a story that has already been finished, in a story that can only be changed by its reader and, holding his story that had become my story, I blurted out:
"What-you-said-about-the-airplane-and-the-worst-day-of-your-life-I-just-want-to-say-I'm-23-and-I-understand-how-that-feels."
He grinned at my awkwardness, not unkindly, and said simply,
"Make good stuff."
(10.)
Time passed.

I waited for the night to begin to talk to me again, for people to come, for all the ghosts and monsters of my imagination to stand beyond the circle and call me out, but nothing more happened. Not then.

I simply waited.

There was silence.

The shadows seemed to have become part of the night once again.

I thought over what I said, and I knew that it was true. At that moment, for once in my childhood,

I was not scared of the dark."