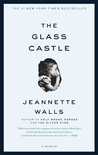 The Glass Castle by Jeannette Walls
My rating: 4 of 5 stars
Non-spoiler summary in one sentence: A woman tells her life's story thus far – focusing mainly on her financially poor yet emotionally rich childhood as well as her parents' unique personalities and how they impacted her own character.
Initial thoughts: I bought this book from Goodwill a looooong time ago when I was on a buy-all-the-cheap-bestsellers-you-can-find kick. I wasn't sure what to expect.
Genre(s) IMHO: Memoir, Creative Nonfiction
Plot and Character: It's difficult to comment on plot in memoir because people don't have complete control over their lot in life (which is immediately clear in Walls' case, not having a choice in the family she was born into), but people do have control over their reactions to their lot in life. It's also difficult to comment on character in a memoir because that's essentially a critique of the author's reactions to her own life; reviewers already do that enough in discussions on memoir, and I think it's tasteless. When a writer is courageous enough to give the most personal content available for her to give, I think that content requires a higher level of respect by its readers. I respect Walls' willingness to provide equal weight to the good and bad memories as well as to her own achievements and mistakes. Conversely, when I read the memoir Lucky by Alice Sebold, I think Sebold rushed her remembrance of her own drug addiction, perhaps because it's personally difficult to write about one's own mistakes – the way we as humans can harm ourselves over time, and much more cathartic to write about one's own victimization – the way we as humans have been harmed. Walls had the same opportunity to treat her character as well as her siblings' characters as victims to her parents' choices, but instead she faced her own feelings of guilt and shame in the way certain things – like her younger sister's life – turned out. I was immensely impressed with Walls' willingness to be so honest with not only herself but also her readership.
Setting: I really, really enjoyed the attention given to setting in this novel. Walls' descriptions of the family's travels in the Southwestern desert, the shores of California, and the mountain towns of the Appalachians was thorough without taking any attention away from the character-driven narrative.
Writing style: Just literary enough to be considered creative + just journalistic enough to be considered nonfiction = yep, it's a memoir!
Conclusion: I'm sending my copy off for swapping, but I'm confident the next reader will find a good read in The Glass Castle.
for The Glass Castle

*** Rebecca N. McKinnon's Rating System Key ***

– 'Did not like it' means I probably didn't finish it and I definitely would not recommend, own, or re-read

– 'It was ok' means I probably finished it but would not recommend, own, or re-read

– 'Liked it' means I finished it and might recommend it to some but not all people. I would not own it or re-read it.

– 'Really liked it' means I finished it and would recommend it but only after my 5 star favorites. I would not own it or re-read it.

– 'It was amazing' means I finished it, would recommend it, own it, and re-read it.
Author Bio:
Jeannette Walls

– Born in Phoenix Arizona
– Graduated in 1984 with honors from Barnard College in New York
– She's mainly a journalist but her most recent book The Silver Star is a fiction novel.